MÁTÉ MÉSZÁROS: MECHANICS OF DISTANCE
The performers from three very different backgrounds (a classically trained ballet dancer, a dancer with a folk dance background and a dancer trained with contemporary techniques) and the musician interfere with each others personal spaces so much that the recipient/spectator can make away from their usual urge/constraints for interpretation. The bodies place the dance in the perspective of fine arts by their plasticity, fictily materiality.
The Mechanics of Distance focuses on positioning static and moving bodies in space, cramming matching and mismatched systems into it and examining the distance between bodies. To illustrate this problem the choreographer's tool is to find the right gesture, the translation of abstraction to physical body.
The piece presents encounter-variatons of bodies in space stimulating free interpretation. Episodic events drawn from social and personal contexts represent emotional, moral or intellectual situations.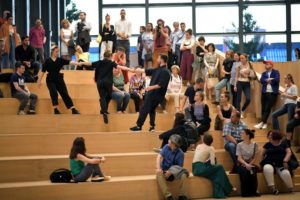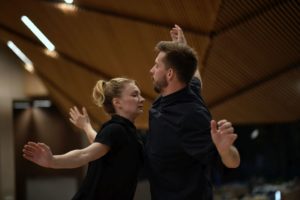 (photo by Bellai)

'…in his choreography the direct, tangible togetherness and closeness met a more elevated, solemn dimension and a political perspective was also added all together looking for answers: how far can the borders of dance be pushed? what potential there is in an unexploited institutional (inrfa)structure? what kind of infinite dimensions open up by experimenting the open sapce….' (Dorottya Albert, szinhaz.net)

Máté Mészáros graduated at the Hungarian Dance Academy in 1999. After 3 years at the Szeged Contemporary Ballet he has worked at various European companies (CarteBlanche – Norway, Lanonima Imperial – Spain, Ultima Vez – Belgium). Amongst others he worked with Ohad Naharin, Sharon Eyal, Amanda Miller, Myriam Naisy and Wim Vandekeybus. He is choreographing for various Hungarian companies, has a worldwide practice in giving workshops.
Choreography and concept: Máté Mászáros
Creator-performers: Jenna Jalonen, Máté Mészáros, Zsófia Tamara Vadas
Music: Áron Porteleki
Consultant: Tamás Bakó
Producer: SÍN Arts Centre
Premiered at the National Dance Theatre, Budapest / 26 May 2019
The production was realized with the support of the Zoltán Imre Programme of the National Cultural Fund