ATLAS BUDAPEST
ATLAS BUDAPEST
4 September 2014
17.00, 20.00
MU Theatre
To turn the theater back into a political space. 100 people on stage. A landscape of people with different kind of professions, claiming their position on society, individually as well as in group, mapping a sort of 'atlas' of the complex cohesion of a social tissue.
A quiet revolution. A work motivated by the belief that art should play an active role in society. Uniting art and life.
One of the first ideas for this piece where the ideas of the artist Joseph Beuys: 'we are the revolution' and 'everybody is an artist'. He enlarged the area of art to the whole life of mankind introducing the notion of social sclupture.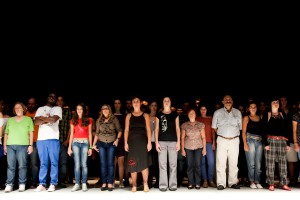 Performers: 100 people of different professions from local community
Concept and artistic direction: Ana Borralho & João Galante
Light: Ana Borralho & João Galante
Light consultant: Thomas Walgrave
Sound: Coolgate
Artistic consultant: Fernando Ribeiro
Dramaturgy collaboration: Rui Catalão
Artistic collaboration and group coordination: Catarina Gonçalves, Cátia Leitão, Tiago Gandra, André Uerba
Stage video and editing: Helena Inverno and Veronica Castro (Volante)
Stage photography: Vasco Célio
Production: casaBranca
Co-production: Maria Matos Municipal Theatre
Artistic residency: Atelier real, alkantara
Support: Junta Freguesia de Santos-o-Velho
casaBranca is a structure funded by Secretaria Geral da Cultura / Direcção-Geral das Artes
Production manager in Budapest: Adrienn Szabó
Producer in Budapest: SIN Culture Centre
Supporters: Open Latitudes 3, This project has been funded with support from the Culture Programme of the European Union.
Book your tickets on availabilities of MU Theatre.