MÁTÉ MÉSZÁROS: UNITED SPACE OF AMBIVALENCE
Endless game, art of precision and self-parody or fake documentary insight into the creative processes of art making?
It is already a task to decide where the stage ends and where it faces, the stage on which Patrik Kelemen, Dávid Mikó, Gáspár Téri, Tamás Bakó and Máté Mészáros, the choreographer – although there are several contestants to his position here – move with enormous energies. However, the ambivalent states promised by the title are not necessarily expected from them: it is the audience that is puzzled when faced with the their own ideas on art, aesthetics, genre boundaries as well as stereotypes and the irritating phenomenon when something does not entirely fit into our defined and learnt categories and systems due their contradictory nature.
The scenography is an ever transforming live installation in which the dancers are either just present, or choreograph and animate each other. The roles are changing all the time, direction and free will become fluid and open questions. What seemed clear all turn upside down in the next moment.
In the new creation of Máté Mészáros the creators approach the body as a dynamic object: it does not feel, but seeks, moves, executes.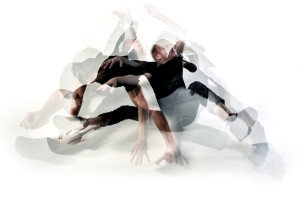 Creators and Performers: Tamás Bakó, Patrik Kelemen, Dávid Mikó, Gáspár Téri, Máté Mészáros
Music: Áron Porteleki
Light Design: Tamás Bányai
Set construction: András Éltető
Consultant: Zsófia Tamara Vadas
Special thanks: Nóra Horváth, Balázs Fischer, Caterina Teixeira
Choreographer: Máté Mészáros
Producer: SÍN Culture Center
Coproduction partner: Trafó House of Contemporary Arts
Supporters: SÍN Culture Center, NKA, the Municipality of Budapest, BVA Budapesti Városarculati Nonprofit Kft., Staféta, Füge Produkció
The performance is realized as part of the Staféta Program initiated by the Municipality of Budapest.
Premiered in 2018, Trafó