Bejegyzések a(z) Recent kategóriában
20.03.2017 20:00 MU Theatre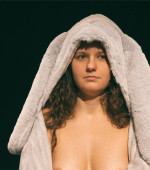 Zsuzsa Rózsavölgyi investigates the female body, its role in today's society, its reasons and aspects of successfulness or unsuccessfulness. Revealing taboos and personal confessions about living in a female body in a lecture-performance solo piece.
részletek >>
03.03.2017 20:00 Trafó
Five people try to surrender in a fictitious world. If not truly connect at least to coexist peacefully in a world created by the fiction of theatre. They work hard to make sense out of nonsense and land on a common ground of acceptance. Five individuals meet in a fictive room hosted by the theatre. With their voice, with their body and with the objects found as if they were leftovers of a riot of a fictitious protest.
részletek >>
15-04-2017 20:00 MU Theatre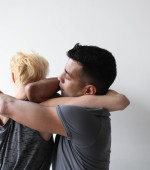 Two dancers, Viktória Dányi and Nelson Reguera Perez examine all what is underlying a relationship between two people through this endlessly repeated, routine-like gesture.
részletek >>